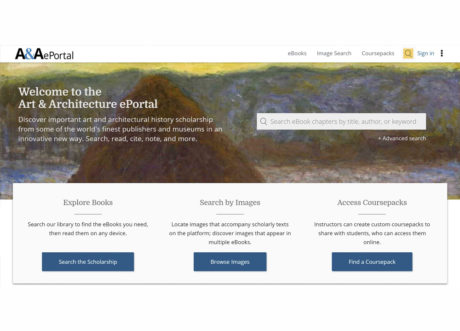 Yale University Press (YUP) is one of the most prestigious academic presses in the world and widely known for its outstanding list of art books. YUP publications are books and other materials that further scholarly investigation, advance interdisciplinary inquiry, stimulate public debate, and educate both within and outside the classroom. In its commitment to increasing the range and vigor of intellectual pursuits within the University and elsewhere, YUP continually extends its horizons to embody university publishing at its best.
Bow Bridge was retained by YUP to help promote the A&AePortal, its new innovative art and architecture platform. Launched in fall 2019, the A&AePortal broadens access to key art and architectural history titles and creates unique opportunities for online inquiry, research, and discovery. Out-of-print titles, key backlist, recent releases, and catalogues from some of the world's finest academic and museum publishers are available on the site.
Bow Bridge previously worked with YUP in 2014, to promote the publication of "The World Atlas of Street Photography," by Jackie Higgins, the second in a series of "World Atlas" books.